Cave Creek Chiropractor,
Dr. Ricardo Lerma
I always wanted to be in the healthcare field…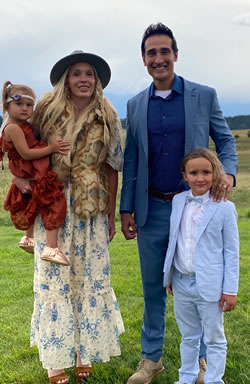 Simply put, I was a skeptic. Then I went in for my first adjustment. It was incredible and I'll never forget it. It was as if a huge weight was suddenly lifted from my back. That's when I knew I had made the right choice.
I always knew I wanted to be in the health care field, but I wasn't very excited about my choices. In middle school and into high school, when I would take the career placement exams, inevitably my choices would come up as a medical physician or physical therapy. We always had family physicians as friends and it just didn't seem to fit; they were overworked and stressed! Then I discovered Chiropractic. I talked to my local chiropractor and he explained chiropractic to me. It made sense. So I spent time in his office and knew this is what I wanted to do.
After high school, Dr. Lerma started his pre-graduate education at Garden City Community College on a baseball scholarship. He knew that the school, although small, had cadaver labs in the anatomy department which he felt was important. After 2 years, Dr. Lerma was able to finish the required prerequisites such as inorganic chemistry, organic chemistry, biology, basic anatomy, and physiology.
After completing his studies there, Dr. Lerma applied and was accepted into the Doctorate of Chiropractic program at Cleveland Chiropractic College in Kansas City, Missouri. Dr. Lerma chose Cleveland Chiropractic College because their students graduate with outstanding clinical skills. He was the youngest in his class, but he was determined. Dr. Lerma was surprised at the intensity of the program. He was taking 26 to 32 hours a trimester with classes that included biochemistry, a major emphasis on anatomy and physiology, X-ray, diagnosis, chiropractic adjusting techniques, and patient care in the Cleveland Chiropractic Health Clinic. Dr. Lerma loved and thrived in the Anatomy/Neuroanatomy classes, but the biochemistry classes were a challenge. Four years of the program flew by for Dr. Lerma and he graduated Cum Laude with a Bachelors in Human Biology and a Doctorate in Chiropractic.
Dr. Ricardo Lerma discusses how to age with health, address inflammation through lifestyle, and the importance of whole person wellness.
There are too many instructors to name who had a significant influence on Dr. Lerma's career. Dr. Lerma does recall an out-patient experience that did play a role in his appreciation of how chiropractic can influence a person's life. Dr. Lerma was on call at the out-patient clinic when a new patient came into the clinic. She was a practicing nurse who suffered from severe headaches for years. She relied on heavy daily ibuprofen use to tone down the intensity of the headaches, but the headaches were always there. They were affecting not just her work life, but also her home life. The physicians she worked with had given her every strong narcotic on the market and nothing helped. She had mentioned to her peers that she was going to give chiropractic a try and they warned her against it and there was no way that chiropractic was going to help her. Desperate, she gave chiropractic a try. And who was on call that day? Young inexperienced Dr. Lerma. Dr. Lerma performed a thorough examination and found some severe subluxations in her cervical spine. He corrected the subluxations and stated that he would like to see her the next day for a follow up. When the patient came into the clinic the next day, she was ecstatic to say the least. Since leaving the clinic the previous day, she did not have to take even a single ibuprofen and she had no headaches! Dr. Lerma was not surprised since he knew there was more to chiropractic than just back pain.
At Summit Chiropractic Health Center, Dr. Lerma is committed to helping patients achieve their optimal health potential and well being through chiropractic care. We provide a necessary range of chiropractic and therapeutic health care services with friendly comforting support to our patients. Dr. Lerma does this by combining the very best hands-on technique with state of the art diagnostic equipment, while at the same time focusing on a "whole person" approach to wellness. We provide Cave Creek residents services for individuals who have chiropractic related health problems or are concerned about maintaining wellness and having a healthy lifestyle. We encourage the care for those individuals from children, teenagers, adults, and senior citizens or anyone seeking a drugless, non-surgical approach to health, healing, and injury prevention.
"We love skeptics," smiles Dr. Lerma. "I still remember the concerns and apprehension I had when I went to the chiropractor the first time. So we make it a point to explain everything in advance, answer questions, and attempt to over communicate. Patients appreciate that."
Outside of the Office
Dr. Lerma is married to Dr. Holly Ann Lerma D.D.S. "It was an arranged marriage," jokes Dr. Ricardo Lerma about how they met. They married in 2001 in Vail, Colorado. They have two children: Beckham Elijah Lerma who is five, and Jagger Rae Lerma who is two. They also have a cat named Noah and a dog named Anakin. Dr. Holly Lerma was the owner and head dentist of Pinnacle Peak Dental Care in Scottsdale, Arizona until November 2019 when the decision was made that Holly would be home with the children. Beckham loves swimming, basketball, and baseball; and his little sister Jagger is following in her big brothers' footsteps.
Both doctors Holly and Ricardo Lerma and their two children get regular weekly chiropractic adjustments. They don't receive adjustments because they are in pain, they see chiropractic adjustments as a preventive way to maintain their health and wellness. "Spine decay is as serious as tooth decay," reports Dr. Lerma who tries to work out three to four times a week while maintaining a healthy diet. Both Holly and Ricardo have seen their share of health challenges in their own families, including cancer and other crippling degenerative diseases. "With our families' personal experiences, we don't take health lightly. We have discovered that certain foods cause disease and premature aging, while certain other foods inhibit disease and prevent aging. Instead of allowing these degenerative diseases to infect our family, we simply take daily steps to prevent them. No need for ibuprofen for stiff joints or headaches. These are the standards we try to live by each day."
Enough about me! I am a Cave Creek Chiropractor ready to help you with today's safe and natural chiropractic care. Call Summit Chiropractic Health Center now to schedule an appointment and let's see how chiropractic care can help you!